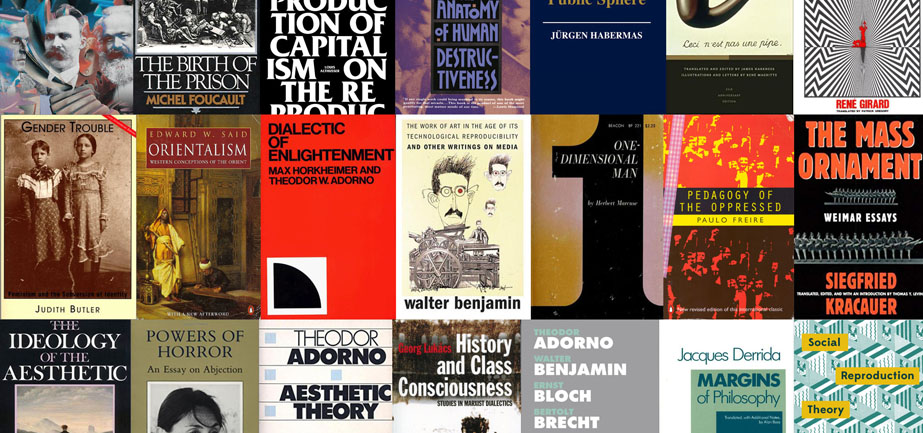 Critical Theory in Contemporary Art Practice
This course maps the theories and discourses that inform the production and reception of contemporary art, providing a supportive environment to develop your practice and articulate your ideas on the production, exhibition and interpretation of art.
Through lectures, seminars, tutorials and gallery visits the course will familiarise you with key concepts and historical transformations that underpin contemporary art production and reception. We will look at the impact of key philosophical, cultural and political discourses on art practice, and examine different theoretical perspectives and critical debates. You will extend and develop your ability to discuss, write about and judge contemporary art. You will be supported in contextualising your practice with extensive feedback in tutorials and workshops. You will also develop your skills in writing artist's statements, critical reviews and/or exhibition proposals.
What kind of knowledge and skills do contemporary artists need? Who is art for? How do we recognise art? What distinguishes art from other forms of cultural production? How does the global economy affect the production and circulation of art? Is art a commodity? What is the social role of art? Can art bring about social change? Can art be critical? Are artists expected to push social boundaries? What is critical art, critical of? What is aesthetic autonomy? These are some of the questions we will address as we explore the historical and critical contexts in which contemporary art is made, circulated, viewed and understood.
Course Outcomes
By the end of the course you will have a good grasp of the historical underpinnings and current debates in contemporary art. You will develop, articulate and contextualise your practice. You will develop your writing and research skills and formulate research questions to guide your practice and research. You will be able to critically evaluate your own work, as well as that of others. You'll be able to critically discuss and evaluate contemporary art.
Who Should Attend
The course is open to everyone regardless of experience but it is particularly suited to those who have a background and experience in art and wish to develop their practice and extend their knowledge of contemporary art practices and discourses. The course will suit those wishing to develop their practice and research, prepare a portfolio, apply for a postgraduate degree in art or pursue a career in the arts. The course will benefit painters, sculptors, print-makers, installation artists, performance artists, video and media artists, designers, sound artists, musicians, curators, writers and researchers.
Upcoming Course Dates
Click on the dates below for more info and to book
12 Jan – 16 Mar 2023 Thursdays 18:00-20:30 Chelsea College UAL
This course runs every Thursday from 6pm to 8:30pm for 10 weeks at Chelsea College of Arts UAL. If you have any questions please use the contact form or get in touch with the UAL Short Course Team +44 (0) 20 7514 6311.
From
To
Time
Duration
Location
Fee
Actions
Thursday,
12 Jan 2023
Thursday,
16 Mar 2023
18:00–20:30
10 weeks
(25 hours)
Chelsea College of Arts UAL
16 John Islip St, London SW1P 4JU
£ 665
BOOK
 
 
Tutor
Sophia Kosmaoglou is an artist, curator and tutor. Her current practice blurs the boundaries between art, activism and education to question the ontology of art and its social and institutional functions. She has a practice-based PhD in Fine Art from Goldsmiths and her research interests include institutional critique and the relationship between art and politics, institutions and independent organisations and collective practices. She has previously taught Critical Studies and Studio Practice on BA Fine Art Practice and Joint Honours courses at Goldsmiths and is currently a Visiting Tutor at Chelsea College of Arts. She is a founding member of the Radical Pedagogy Research Group and a former member of ART&CRITIQUE, Exploding Cinema, The Field, Deptford Cinema and other collectives. For more information please see https://videomole.tv/
Reviews
This course offers a great opportunity to spend significant time and thought on aspects of your practice in a stimulating group environment. I would like to thank Sophia for her commitment to the students beyond what I expected- providing us with a wealth of information, reading lists etc and regular, detailed personalised feedback, which made such a difference. —Anon

I've been looking for a long time to find a course like this, it is a unique opportunity, no other place provides this course. Sophia is a brilliant tutor and I am so glad I participated. I look forward to the next course. —Anon

There is a lot of material in this course. It could easily form the basis of a degree course either under or post graduate. —Anon

What an enormous pleasure and fascinating process this week has been, so open and yet demanding. I'm in my studio as I write. It feels like the place to be to think it through, and in my case 'get on with it'. I have a stack of questions, and some answers now, about how to go forward. It's exciting! Thank you Sophia for this fantastic course, for your teaching, feedback and whole approach. It is so helpful to receive your perceptive and knowledgeable feedback to shake things up, reflect and begin to put more focused ideas into practice. You set the bar high for all of us with astonishing commitment. —Anon

The ideas learnt are indispensable and will stick with me for life. I will use it towards a Master's course and during my own personal study. It has inspired me to get back in education with more direction and confidence. —Anon