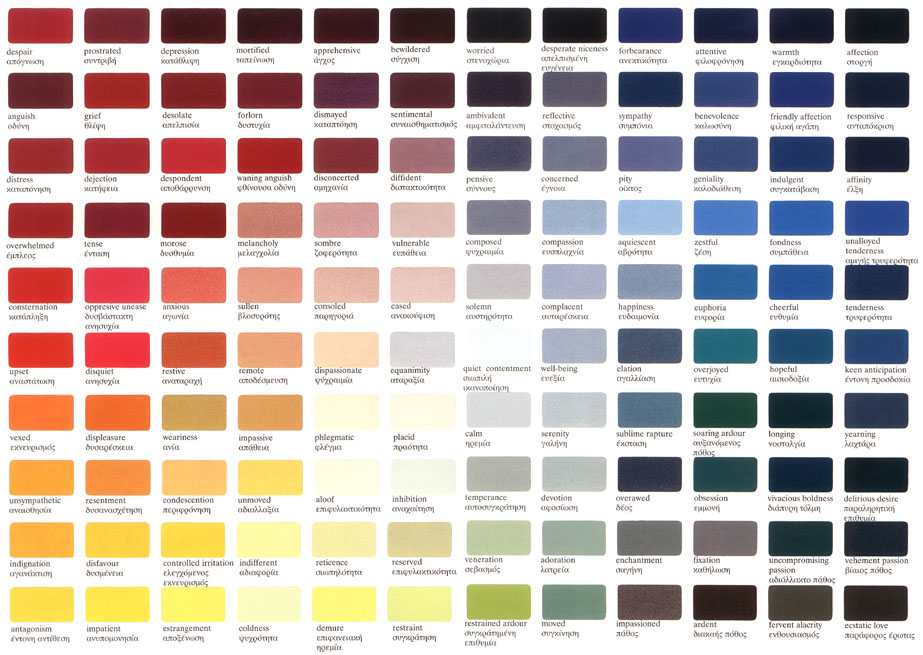 A study of the emotional interaction between two individuals is charted on a graph, measuring intensity of emotion against time. A specific range of colours is used to indicate the range of emotions experienced throughout the relationship. Each emotion is colour-coded according to the following process: the emotions are arranged in a sequence according to their intensity and essential qualities. This emotional spectrum is randomly superimposed onto a colour spectrum. The colours are selected from the Mercedes-Benz paintwork palette for cars produced between 1955 and 1996. The sequence of emotions/colours (resulting from the chronological appearance of each emotion throughout the couple's interaction), forms two distinct configurations displayed on fuel tank lids (Mercedes-Benz model W 201). Each configuration represents the emotional world of each individual.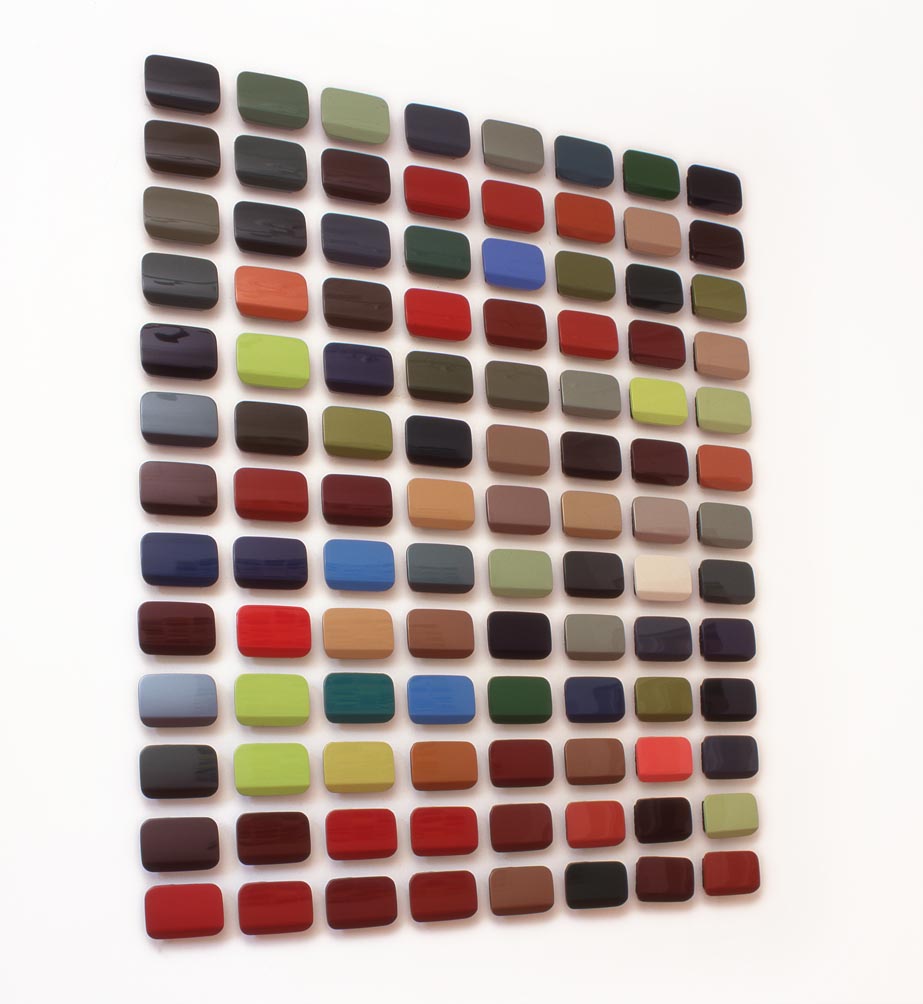 A language-game: Report whether a certain body is lighter or darker than another. But now there's a related one: State the relationship between the lightness of certain shades of colour. (Compare with this: Determining the relationship between the lengths of two sticks-and the relationship between two numbers.)-The form of the propositions in both language-games is the same: "X is lighter than Y". But in the first it is an external relation and the proposition is temporal, in the second it is an internal relation and the proposition is timeless. (Wittgenstein, 1990, p. 2e)
Each colour is a variable that corresponds to an emotion; it does not stand in an expressive or symbolic relation to it (numerical codes and mathematical variables do not embody the object they represent). But the configuration of emotions in the couple's interaction is expressed by the configuration of colours. Since the relationship between the internal properties of the colours, corresponds to the relationship between the internal properties of the emotions.
Lovesong, 1996. Fuel tank lids, automotive enamels, colour code, dimensions variable (Laura 174.1 x 154 cm)

2.14 What constitutes a picture is that its elements are related to one another in a determinate way.

2.15 The fact that the elements of a picture are related to one another in a determinate way represents that things are related to one another in the same way (Wittgenstein, 1993, p. 9)
Francis Petrarch, wrote Canzoniere, a collection of 366 love poems, over a period of 40 years during the 14th century. The poems are addressed to Petrarch's platonic mistress Laura, possibly Laura de Sade, ancestor of the Marquis de Sade. Petrarch's love was unrequited, to him it was also sinful, for she was married. Laura's character, as it is portrayed by Petrarch, is that of the archetypal femme fatale. The sonnets reveal a plot created by the interaction of Petrarch and Laura. This is dominated by sudden shifts of mood, with swings between extremes. Their emotional changes follow discontinuous paths, jumping from one emotional extreme to another, seldom experiencing contentment.
In a a game, each player's move responds to and provokes the other player's actions. Individual actions cannot be isolated because they are the logical sequence of the game. Nevertheless, each side retains its own at the end of the game.
Bibliography
Jones, Frederic (1994). What's catastrophe got to do with it? New Scientist no. 1957, 24 Dec 1994.
Jones, Frederic (1995). The Structure of Petrarch's Canzoniere: a chronological, psychological, and stylistic analysis. Cambridge: Brewer.
Rinaldi, Sergio. (1996). Laura and Petrarch: An Intriguing Case of Cyclical Love Dynamics. In: SIAM Journal of Applied Mathematics, Vol. 58, No. 4, (Aug 1998), pp. 1205-1221.
Strogatz, Steven H. (1988). Love Affairs and Differential Equations. Mathematics Magazine, Vol. 61, No. 1, pp. 35.
Wittgenstein, Ludwig (1993). Tractatus Logico-Philosophicus. London: University of Chicago Press.
Wittgenstein, Ludwig (1990). Remarks on Colour. Oxford: Blackwell.
EXHIBITIONS Spring Collection 96, Deste Foundation, House of Cyprus, Athens, 1996
COURTESY Dakis Joannou & the artist EDITION 1 + artist's copy
Sophia Kosmaoglou LOVESONG (1996)
Fuel tank lids, automotive enamels, colour code, dimensions variable.
---