Saturday, 25 July 2020, 12-7:30pm
ONLINE via the Conway Hall Zoom channel
Please click here to book your place (suggested donation £5)
Turn on, tune in, get involved, start your own art school!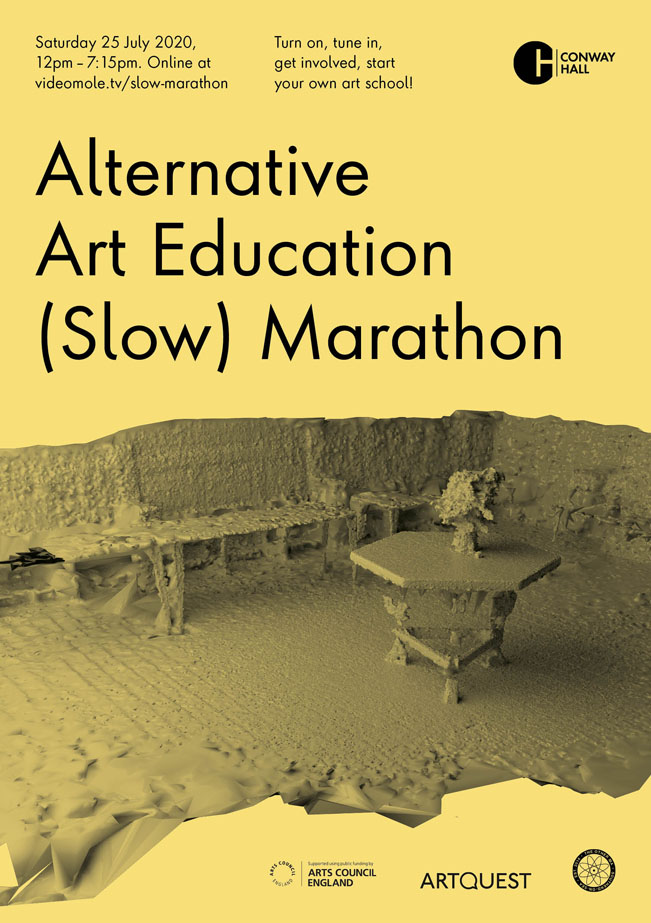 Join us via the Conway Hall Zoom channel to celebrate alternative art education and launch the first issue of URgh! a zine on education and precarity.
Tune in from 12-7pm to learn and play in a range of events: produce a zine with TOMA, find out what peer-led schools are up to and exchange ideas on online education, labour and cooperation. Create a virtual creature with Genetic Moo, discuss the controversy around learning styles with the Art and/or Science Reading Group, show your work in an art crit with Artquest and wind down with the DJ set by Milky Jeans.
URgh!#1 features critical essays, histories, documents, guides, interviews, fiction, poetry and visual art on alternative art schools, study groups, peer-led and self-organised education, collectivity and collaboration, co-operative art education, mutual aid, alternative economies, creative labour and the critique of neoliberal reforms in higher education. To download a PDF or order a printed copy please click here on 25 July.
This event will be held online via Zoom, please book your place and you will receive an email with the link on the day of the event. Please note that you need to make a separate booking to participate in the Art and/or Science Reading Group. If you have any questions or access requirements please get in touch.
The (Slow) Marathon is collaboratively organised and hosted by the alternative art education community, with support from Conway Hall, Artquest, TOMA and Arts Council England
Programme
Please click the headings for further info on each event
12:00-12:15 Introduction + URgh!#1 zine Launch
After a brief introduction issue #1 of URgh! zine, artist Chloe Cooper will guide you through the programme for the day.
12:15-13:00 Imagined Futures zine workshop with TOMA
Art schools set up outside of the institution are often not interested in assessments or qualifications but more in collaboration, experience and accessibility. In this zine workshop Bella + Lu will guide participants to deconstruct traditional literature + theory guiding you cut up, edit + form anew. Through rehashing + self-publishing we can form new contents + make reading more accessible + less academic. What you will need: something to draw or write with, paper (A4 or A3 is best), glue or tape (something sticky), newspapers or magazines you don't mind cutting up, scissors. Facilitated by Lu Williams and Bella Street Fenn who are participating artists on TOMA.
13:00-13:30 Alternative art school + peer-support group Jamboree
Meet members of alternative art schools and peer-support groups who will talk to us about their activities, working methods, membership and how you can get involved. This event will be facilitated by Emma Edmondson with speakers from alternative art schools and peer-support groups.
We will hear from Emma Edmondson (Artist and founder of TOMA), Sophie Chapman (Artist and runs Into the Wild), Amy Pennington (Artist and member of Solidarity Syndicate), Miki Shaw (Founding member of the Juggernauts peer mentoring group), Lisa Rahman (Participant of Made Up School: Rabbits Road Press), Fernando Holguin (Member of AltMFA), Jackie Goodman (Director and Founder Member of Feral Art School), James & Maddie (SOTD Class of 2020 members), Matthew Noel-Tod (Co-founder Conditions), Elle Reynolds (Researcher of alternative art school spaces) and John Ros (Founder studioELL).
13:30-14:30 Discussion: online education, labour + cooperation
What does the sudden popularity of peer-led online creative activity mean for the future of art education and online education more broadly? How do alternative art schools sustain themselves? How does alternative art education prioritise cooperation over competition? This event will be chaired by Catherine Harrington (On online learning), Emma Edmondson (On labour) and Sophie Chapman, Jessica El Mal and Sam Lanchin from Into the Wild (On cooperation).
14:30-14:40 Imagined Futures zine workshop wrap up by TOMA
To wrap up the zine workshop show us what you've made!
14:40-15:00 BREAK: Alternative Art School Film Compilation
Compilation of films by and about alternative art schools and peer groups collected through an open call, edited by Nicola Schauerman.
15:00-17:00 Microworld @HOME workshop with Genetic Moo
Join artists Genetic Moo on Zoom and their YouTube channel for some digital creativity & play. Using a purpose built, web-based creature generator, Genetic Moo will guide you in designing your own sprite and giving it motivations. You'll be able to release it into a virtual world for everyone to see. Watch how it engages with the Microworld and other creatures. For more details visit www.geneticmoo.com.
15:00-17:00 Art and/or Science Reading Group
The Art (And/Or) Science Reading Group will consider science, art and learning styles. This event has limited capacity: please CLICK HERE to book your ticket
There is a growing interest in the relationship between art and science, with some considering art as a powerful tool for engaging with, learning about and enquiring into scientific topics. We juxtapose this with the historic debate on 'learning styles', a highly contested field where proponents of learning styles argue that individuals acquire information better when they can engage with it in a way which suits their learning style, whether that be visual, auditory, written, kinaesthetic and so on. Opponents, on the other hand, argue there is zero data to support this.
The topic seems ripe given our COVID-related drift towards computer-based ways of engaging with information, a development likely to prejudice certain learning styles. And indeed this Reading Group will, of course, be held virtually, via Zoom.
In the discussion we will refer to at least two stimuli:
Science / Fiction by Carol Black has the subtitle 'Evidence-based education, scientific racism, & how learning styles became a myth'. We propose pre-reading sections 1 and 2, although of course participants are welcome to read more (or less!) of the article.
Loop, a video on septin assembly in cells, by Samantha Moore in collaboration with Dr Serge Mostowy. To quote the artist 'Loop is about what can be seen and what cannot, how scientists imagine their work and how they describe it.'
Please feel free to come if you've read the paper, seen the video, done both, or done neither – we're interested in bringing together lots of different perspectives.
The Art and/or Science Reading Group is intended to be low-key and chilled affair, providing a chance to do some reading around art and/or science tied to an ongoing exhibition or artwork, and have a friendly chat exploring some of the ideas that are brought to the fore by these pieces.
17:00-17:15 BREAK: Darshana Vora [2020] Lost & Found
Moving image, 6 min, looped. Text compilation with material collected through an open call.
17:15-19:15 Z-Crit with Artquest
A specially adapted Z-Crit session, an informal, quick-fire online crit that will introduce artists to each other and their work, with the aim of enabling those taking part to run their own ongoing online-crit groups. A short introduction will be followed by 3 minute, quick-fire artist presentations. At 6:10pm the presenting artists will participate in private feedback sessions in breakout rooms. The deadline for expressions of interest to participate in this Z-Crit has passed but please come along to view the artist presentations and keep an eye out future events on the Artquest website.
18:15-19:15 Milky Genes (non) art school disco
Milky Genes, the lo fi  prince of plastic rave pop, brings your brain an essential hour of non essential sounds that you will not have heard before and with pretty good reason. Get your glow sticks lit for some profound dancehall gems at the Non Art School Disco, a retrospect of the lockdown sessions played live on Facebook over a series of weekends in March/April, and a selection of other oddities and noises.
Contributors
The Art (and/or) Science Reading Group brings together writings and exhibitions that sit at the intersection of art and science, reflecting and practicing plural ways of knowing. The Group usually meets monthly and aims to be completely inclusive, welcoming people of all backgrounds and those who've done the reading, seen the relevant artwork, done both – or done neither! The Art (and/or) Science Reading Group is organised by Ellie Armstrong and Stephen Bennett. More about the group, including how to get on the mailing list and past events, can be found here.
Artquest uses research about visual artists' working conditions, career barriers, and motivations to develop the professional information, advice and projects that they need.
Bella makes work using images mined from the internet to explore collective memories and imagination. She references water, sea creatures and mythologised identities and exploits the re-immersive potential of green screens. She is obsessed with octopuses and is psyched to be included in the beautiful evolution of the TOMA programme.
Artist based in East London, whose artwork encompasses 2D images, sculpture, installations and staging urban walks. She is an active participant of the peer led art education group alt:mfa.
Artist and educator who writes texts for performative workshops and instructional videos that splash about in the rocky waters of human relationships. Member of crit/support/mentoring groups and credits them with her continuing ability to practice.
Artist living in London who works in site-specific installation, moving image and across genres, member of the Radical Pedagogy Research Group.
Emma Edmondson lives and works in Southend on Sea. Studying and graduating during the 2008 financial crash and tuition fee rises, investigations into hierarchies, precarity, dystopian survival and utopian community are at the centre of her research and practice. She uses sculpture, print, sound, and text, exploring her interests directly via her work in art education. In 2016 Edmondson founded TOMA (The Other MA) and she teaches art in community spaces, schools and universities on precarious contracts. Edmondson sees TOMA and her teaching work as part of her creative practice.
Genetic Moo is a collaboration between Nicola Schauerman & Tim Pickup. We build interactive digital ecosystems. Our exhibitions celebrate digital creativity and collaboration. We run creative coding workshops within our shows and present the resulting output in a specially designed collaborative artwork.
Into The Wild is an artist development programme for early career artists based out of Chisenhale Art Place.
Lu Williams creates cross disciplinary artworks, events and printed matter with a focus on do-it-yourself culture, process, social practice, activism, intersectional feminism and class. For the last three years, Lu Williams has been creating, self-publishing, platforming and archiving zines as Grrrl Zine Fair through live events, zine workshops, Grrrl In Print zine and a LGBTQIA+ feminist library- the Grrrl Zine Library; which now resides at The Old Waterworks arts space.
Michael "milky genes" Graham is a Southend based musician and sound explorer performing one off events and soundscapes for various projects using a myriad of retro  and modern instruments, toys or anything else that can make a sound.
Sophie is an artist and sometimes learning curator from Newcastle, living in London. Her main practice is a collaboration with artist Kerri Jefferis. Sophie is the Artist Facilitator for Into The Wild.
TOMA is a 12-month artist-run education model based in Southend-on-Sea, currently the only postgraduate level art programme in Essex. Shaped by its participants and designed to fit the everyday lives of 21st century artists, TOMA was set up in 2016 to offer responsive, affordable, accessible art education.
Credits
Design Models and Constructs
Master of ceremonies Chloe Cooper and Zoe Toolan (RPG, AntiMA)
Event coordination Emma Edmondson (TOMA), and Sophia Kosmaoglou (RPG)
Film editing Nicola Schauerman (Genetic Moo)
Resource scheduling Anna B. Sexton
Copywriting Ellie Armstrong and Sophia Kosmaoglou
Moderators Darshana Vora and Sophia Kosmaoglou
Technical support Jeff Davy (Conway Hall) and Anna B. Sexton
Administrative support Jordan Mitchell, Martha Lee and Jim Walsh (Conway Hall)