URgh!#1: alternative art education
The first issue of URgh! on alternative art education includes critical essays, histories, documents, guides, interviews, fiction, poetry and visual art on alternative art schools, study groups, peer-led and self-organised education, collectivity and collaboration, co-operative art education, mutual aid, alternative economies, creative labour and the critique of neoliberal reforms in higher education. URgh!#1 on alternative art education launches on Saturday, 25 July 2020 at the Alternative Art Education (Slow) Marathon.
DOWNLOAD PDF or scroll down to ORDER A PRINT COPY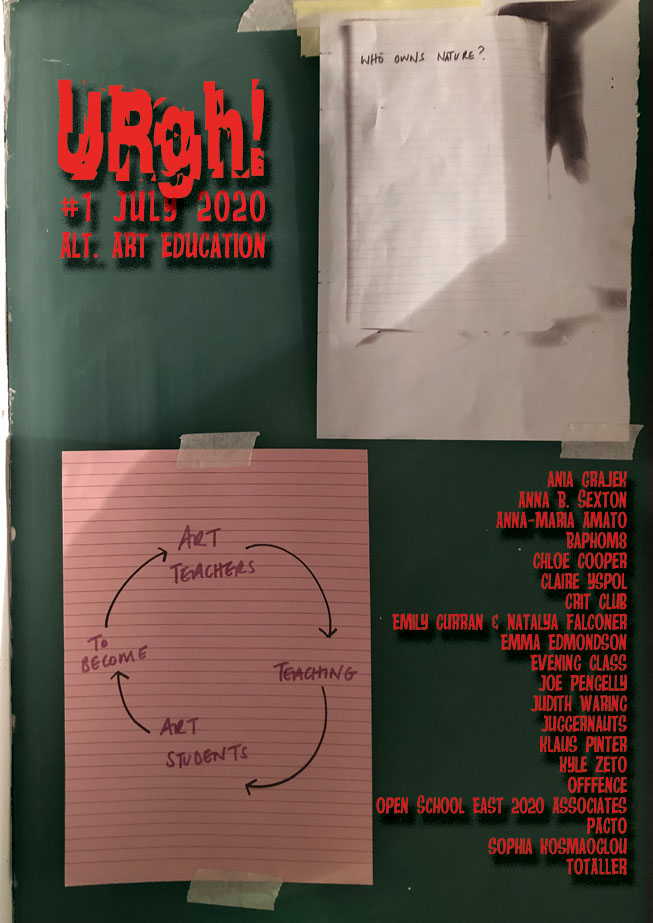 Fuelled by economic crisis, austerity and the liberalisation of higher education, alternative art education has burgeoned into a full-blown movement in the last decade. There are as many different formats and models of alternative art education as there are alternative art schools and peer groups, but what is alternative art education? Who is it for, and what is it an alternative to? How is it different from traditional art education? What do we mean by "alternative"? Can there be an "alternative" if we keep reproducing the same structures and behaviours?
Is alternative art education only for those who can't afford an MFA? Is it a temporary foothold up the ladder of the mainstream art world, or a movement for radical change? Are alternative art schools expected to resist and reform institutional models of education and pedagogy? Can alternative art education address class, race and gender inequality in the arts? Can alternative art education challenge the commodification and instrumentalisation of education and knowledge?
How can alternative art schools become sustainable? Can we reimagine alternative art schools as institutions of the commons? What would a co-operative art school look like? Could self-organized art schools eventually replace mainstream art education?
Contributors
URgh! is a zine on precarious labour dreaming up alternative economies at the coalface of the art educational creative industrial complex.
Order your printed copy of URgh!#1
Please select your location (UK, Europe or International) and the number of copies that you want to order. When you click the relevant link you will be directed to PayPal where you can login or select a card payment. Please allow five days for dispatch. If you have any questions or require more than 3 copies please get in touch.
UK 2nd Class Post
| | | |
| --- | --- | --- |
| 1 COPY | £5.20 | |
| 2 COPIES | £8.90 | |
| 3 COPIES | £11.70 | |
Europe International Standard Post
| | | |
| --- | --- | --- |
| 1 COPY | £6.30 | |
| 2 COPIES | £11.90 | |
| 3 COPIES | £14.60 | |
International Standard Post
| | | |
| --- | --- | --- |
| 1 COPY | £7.00 | |
| 2 COPIES | £13.00 | |
| 3 COPIES | £16.00 | |