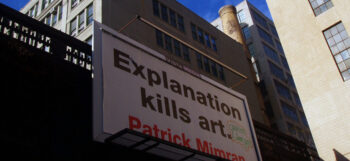 Deadline Friday, 23 February 2018 at 5pm
We're very pleased to invite applications for a fee-waiver award for the upcoming course Critical Theory in Contemporary Art Practice. The award is open to anyone over the age of 18. The fee-waiver is awarded to the applicant who will benefit most from participating in the course, regardless of previous experience, background or education. Every application will be judged on its own terms, there are no academic or professional entry requirements. Please read the course description, it will help you decide whether this course is for you.
The course runs from 19 April to 14 June 2018, on Thursday evenings for 9 weeks, including off-site visits on Saturday, 5 May 2018 at Kupfer, Arch 213, Ponsford Street, London E9 6JU.
For more information and to apply, please download the application form and return it by 5pm on Friday, 23 February 2018. You will be notified of the outcome on Friday, 2 March 2018 and if you are selected you must accept the offer by Friday, 9 March 2018.
We endeavour to offer affordable rates for everyone when we host our own courses. We also offer one fee-waiver award per self-hosted course so that one person can join the course for free. As a non-profit organisation we aim to cover our expenses, including venue hire, tutors' salaries, insurance, booking fees etc. Free or affordable access to a venue helps keep our fees down.