Friday, 13 November 2015, 18:00 – 20:00
The Field, 385 Queens Road, London SE14 5HD
Rail/Overground: New Cross Gate, Queens Road Peckham
Chaired by Sophia Kosmaoglou
Free, please book your place
The reading for our first meeting is an article published in 1784 by Immanuel Kant, titled An Answer to the Question: What is Enlightenment? This short article addresses the topics of autonomy and critique, founding concepts of the Enlightenment, which continue to shape our understanding of individual freedom and the role of art in society. Please read the text and bring it with you to the meeting, along with your questions or comments.
DOWNLOAD: Kant, Immanuel (1784). An Answer to the Question What Is Enlightenment? Originally published in Berlinische Monatsschrift (Dec 1784), pp. 481-494. This translation from the Internet Modern History Sourcebook (1997), Paul Halsall ed.
What, then, is this event that is called the Aufklärung [Enlightenment] and that has determined, at least in part, what we are, what we think, and what we do today? (Foucault, Michel (1984). What is Enlightenment? In The Foucault Reader, Paul Rabinow ed. New York: Pantheon, pp. 32-50)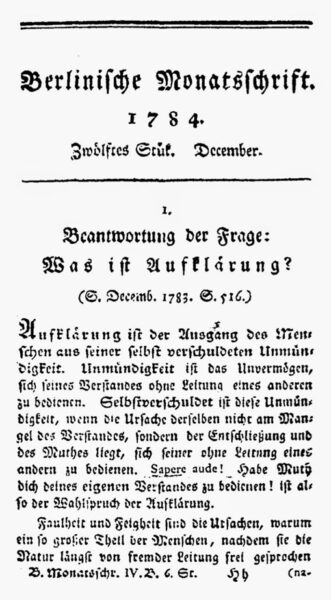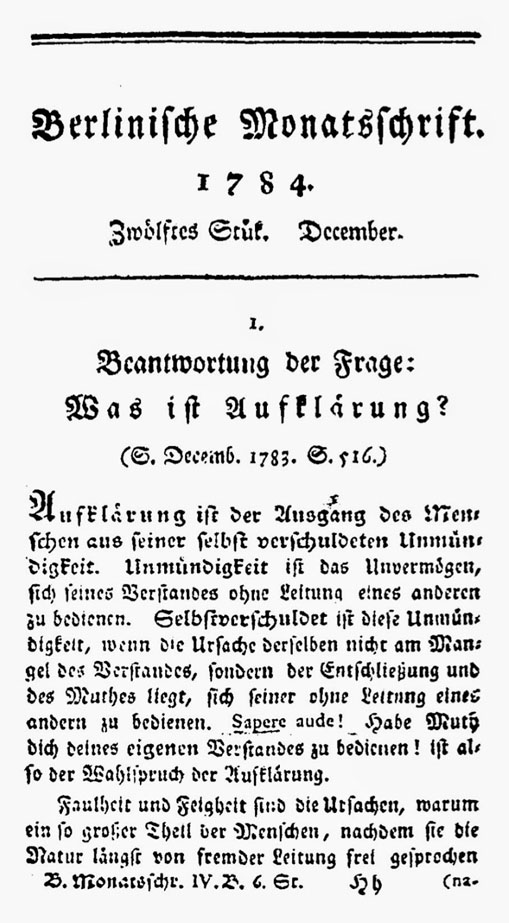 Kant's article An Answer to the Question: What Is Enlightenment? was published in Berlinische Monatsschrift an Enlightenment journal, in December 1784.
It was one of many responses to a question in an article the previous year by Johann Friedrich Zollner. Zollner railed against the institution of civil marriage, an idea suggested in an earlier article by the journal's editor Johann Erich Biester (September 1782).
Biester claimed that associating marriage with religion was contrary to Enlightenment ideals. Zollner argued that marriage required the stability that only religion could provide.
The very foundations of morality were being shaken, Zollner wrote, and cautioned against "confusing the hearts and minds of the people in the name of Enlightenment" (Steve Naragon and JF Zollner quoted in Kant, Immanuel (2013/1784). Beantwortung der Frage: Was ist Aufklärung? Trans and notes Daniel Fidel Ferrer. Creative Commons General Public License Attribution, Non-Commercial, version 3.0).
Suggested further reading