[SYMPOSIUM] BOOK CLUB
The SYMPOSIUM book club was a monthly open-access reading group for artists, researchers and anyone interested in the intersections between art practice and critical theory. Everyone was welcome to propose a text and facilitate the reading group.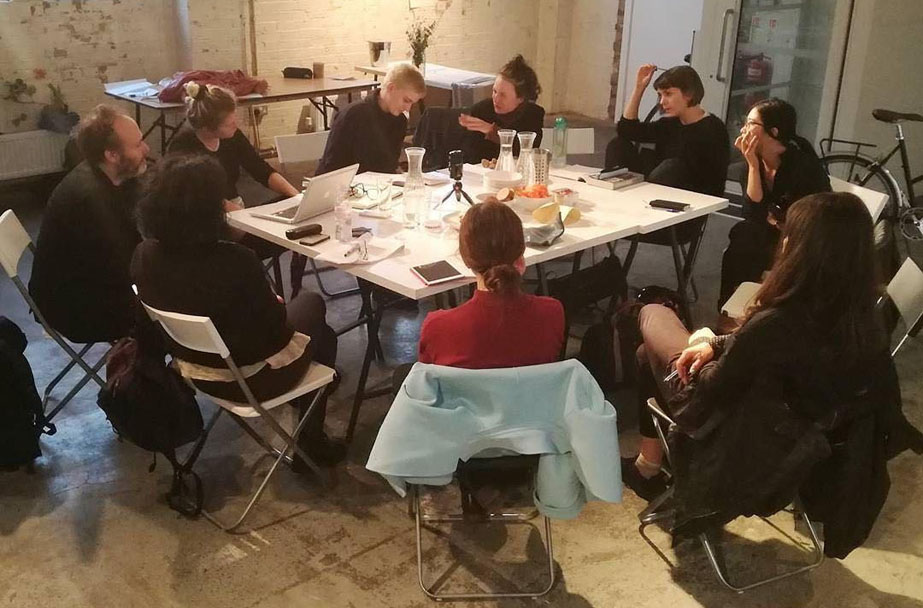 Texts were selected by group consensus on the basis that they reflected on the relationship between practice and theory, this included a broad variety of texts, from philosophy to politics and aesthetics to science fiction – there was no limitation.
SYMPOSIUM was a supportive community of peers who discussed and unpacked their research interests. All participants had the opportunity to facilitate the book club on a text of their choice. Facilitators were encouraged to prepare along the following guidelines:
[1] Decide on a text that you want to discuss. [2] Do some background research and write a short introduction to provide some context, from your own perspective. When was it written? Why was it written? Who wrote it? Was it a response to something else? Why are you interested in the text? How does it relate to, or inform, your practice or your research? [3] Pace the reading. How long is the text? If it is short, can we discuss the entire text in a 2-hour book club? If the text is long you may need to divide it up between two or more sessions. [4] Write down some questions that you would like to bring to the discussion. Suggest some further reading and an image or two, with captions. [5] Download the
infosheet
and send us your proposal.
EVENT ARCHIVE

Nietzsche: The Birth of Tragedy
Friday, 12 April 2019
6:30pm – 9pm
LARC, 62 Fieldgate Street, London E1 1ES
Facilitated by Nat Pimlott
Suggested donation £2, booking via Eventbrite

Jared Diamond: Collapse
Friday, 8 March 2019
7pm – 9pm
LARC, 62 Fieldgate Street, London E1 1ES
Facilitated by Alter Us
Suggested donation £2, booking via Eventbrite

Claire Bishop: Artificial Hells
Friday, 8 February 2019
7pm – 9pm
LARC, 62 Fieldgate Street, London E1 1ES
Facilitated by Eva Ruschkowski
Suggested donation £2, booking via Eventbrite

Call for Book Club 2019
Friday, 11 January 2019, 6:30pm – 9pm
LARC, 62 Fieldgate Street, London E1 1ES
Facilitated by Dee Vora, John Fortnum and Eva Ruschkowski
Suggested donation £2, booking via Eventbrite

Eagleton & Zizek: The Idea of Communism
Friday, 14 December 2018
6:30pm – 9pm
LARC, 62 Fieldgate Street, London E1 1ES
Facilitated by Neil Lamont
Suggested donation £2, booking via Eventbrite

Mark Fisher: Capitalist Realism Pt.3
Friday, 9 November 2018
6:30pm – 9pm
LARC, 62 Fieldgate Street, London E1 1ES
Facilitated by Silvia Bombardini & Elliot C. Mason
Suggested donation £2, booking via Eventbrite

Debord: The Culmination of Separation
Friday, 12 October 2018
18:30–21:00
LARC, 62 Fieldgate Street, London E1 1ES
Facilitated by Penelope Kupfer & Darshana Vora
Suggested donation £2, booking link coming soon

Mark Fisher: Capitalist Realism Pt.2
Saturday, 9 June 2018
14:30–17:30
Yurt Café, St. Katharine's Precinct, 2 Butcher Row, London E14 8DS
Part of Antinuiversity Now 2018
Suggested donation £2, booking via Eventbrit

Derrida: Signature Event Context
Friday, 11 May 2018
18:30–21:00
LARC, 62 Fieldgate Street, London E1 1ES
Facilitated by Nat Pimlott and Sophia Kosmaoglou
Suggested donation £2, booking via Eventbrite

Derrida: Structure, Sign and Play
Friday, 13 April 2018
6:30pm–9pm
LARC, 62 Fieldgate Street, London E1 1ES
Facilitated by Sophia Kosmaoglou
Suggested donation £2, booking via Eventbrite

Mark Fisher: Capitalist Realism Pt.1
Friday, 9 March 2018
6:30pm-9pm
The Field, 385 Queen's Rd, London SE14 5HD
Facilitated by Sophia Kosmaoglou
Suggested donation £2, booking via Eventbrite

Cohn: Representation and Critique
Friday, 9 February 2018
6:30pm-9pm
LARC, 62 Fieldgate Street, London E1 1ES
Facilitated by Aris Nikolaidis
Suggested donation £2, booking via Eventbrite

Adam Curtis: HyperNormalisation
Friday, 12 January 2018
6:30pm-9pm
LARC, 62 Fieldgate Street, London E1 1ES
Facilitated by Neil Lamont
Suggested donation £2, booking via Eventbrite

Debord: Negation & Consumption in Culture
Friday, 8 December 2017
6:30pm-9pm
LARC, 62 Fieldgate Street, London E1 1ES
Facilitated by Aristotelis Nikolaidis
Suggested donation £2, booking via Eventbrite

Adorno: Commitment
Friday, 10 November 2017
6:30pm-9pm
LARC, 62 Fieldgate Street, London E1 1ES
Facilitated by Nat Pimlott
Suggested donation £2

Foucault: Of Other Spaces
Sunday, 15 October 2017
1:30pm – 4:00pm
Yurt Café, St. Katharine's Precinct, 2 Butcher Row, London E14 8DS
Facilitated by Dasha Loyko
Free, booking via Eventbrite

Bishop: Pedagogical Projects
Monday, 24 July 2017, 19:00–21:00
Guest Projects, 1 Andrews Road, London E8 4QL
Chaired by Renata Minoldo
Part of School of The Damned's Common Room
Free, please book your place

Virno: The Dismeasure of Art
Friday, 9 June 2017
18:00 – 20:00
Tropics Café, Grow Elephant, New Kent Road, London SE17 1SL
Chaired by Rubén Salgado Perez
Free, please book your place

Judd: Specific Objects
Friday, 21 April 2017
18:00 – 20:30
88 Fleet Street, London EC4Y 1DH
Chaired by Richard Burger
Free, please book your place


Deleuze & Guattari: Rhizome
Friday, 10 March 2017
18:00 – 20:30
88 Fleet Street, London EC4Y 1DH
Chaired by Katie Tysoe and Sophia Kosmaoglou
Free, fully booked

Marx: The Fetishism of the Commodity and its Secret
Friday, 10 February 2017
18:00 – 20:30
Wimbledon Art Studios, 10 Riverside Rd, London SW17 0BB
Chaired by Sophia Kosmaoglou
Free, please book your place

O'Sullivan: The Aesthetics of Affect
Friday, 13 January 2017
18:00 – 20:30
Louise House, Dartmouth Rd, London SE23 3HZ
Chaired by Katie Tysoe
Free, please book your place

Foucault: The Four Similitudes
Friday, 9 December 2016
18:00 – 20:30
88 Fleet Street, London EC4Y 1DH
Chaired by Penelope Kupfer
Free, please book your place

Foster: Post-Critical?
Friday, 11 November 2016
6:00pm – 8:30pm
The Field, 385 Queens Road, London SE14 5HD
Chaired by Dasha Loyko
Free, please book your place

Badiou: Art & Philosophy
Friday, 14 October 2016
18:00 – 20:30
The Field, 385 Queens Road, London SE14 5HD
Chaired by Kerry W. Purcell
Free, please book your place

Sontag: Against Interpretation
Friday, 9 September 2016
18:00 – 20:30
The Field, 385 Queens Road, London SE14 5HD
Chaired by F. D.
Free, please book your place

Groys: Under the Gaze of Theory
Friday, 8 July 2016
18:00 – 20:30
The Field, 385 Queens Road, London SE14
Chaired by Sophia Kosmaoglou, Respondent Johanna Kwiat Free, please book your place

Rancière: Problems & Transformations of Critical Art
Friday, 10 June 2016, 18:00 – 20:30
The Field, 385 Queens Road, London SE14
Chaired by Stephen Bennett
Part of Antiuniversity Now!
Free, please book your place

Sewell: Tate Triennial III
Friday, 13 May 2016
18:00 – 20:30
The Field, 385 Queens Road, London SE14
Chaired by Richard Lloyd-Jones
Free, please book your place

Duchamp: The Creative Act
Friday, 8 April 2016
18:00 – 20:30
The Field, 385 Queens Road, London SE14
Chaired by F. D., Respondent Penelope Kupfer
Free, please book your place

Latour: On Actor Network Theory
Friday, 11 March 2016
6:00pm – 8:30pm
The Field, 385 Queens Road, London SE14
Chaired by Johanna Kwiat
Free, please book your place

Barthes: The Death of the Author
Friday, 12 February 2016
6:00pm – 8:30pm
The Field, 385 Queens Road, London SE14
Chaired by Henrietta Ross
Free, please book your place

Owens: The Discourse of Others
Friday, 8 January 2016
6:00pm – 8:30pm
The Field, 385 Queens Road, London SE14
Chaired by Sophia Kosmaoglou
Free, please book your place

Abu-Lughod: Writing against Culture
Friday, 11 December 2015
6:00pm – 8:30pm
The Field, 385 Queens Road, London SE14
Chaired by OmarJoseph Nasser-Khoury
Free, please book your place

Kant: What is Enlightenment?
Friday, 13 November 2015
6:00pm – 8:00pm
The Field, 385 Queens Road, London SE14
Chaired by Sophia Kosmaoglou
Free, please book your place