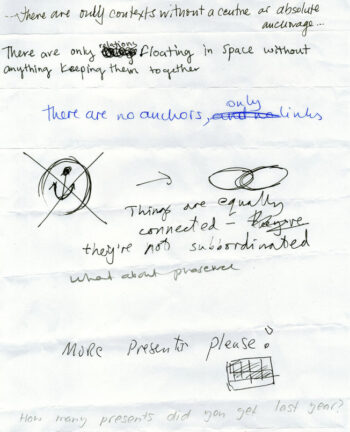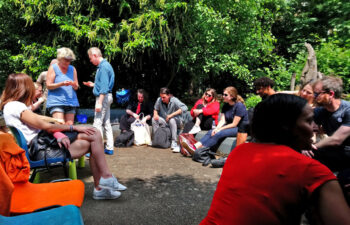 Thanks to everyone who came along and contributed to our events in May and June!
Many thanks to Nat Pimlot for facilitating the excellent discussion on Jacques Derrida's Signature Event Context and to everyone who came along and shared their stories on the Deptford Art & Gentrification Walk in May. Many thanks to the venues for welcoming us and to everyone who met us along the way for their contributions, please see the photo album on Facebook for more details.
Thanks to all the participants who came along and contributed to the book club on Mark Fisher's Capitalist Realism in June, with a very special thanks to Anastasia Freygang for hosting us on Unison.
The book club is having a break in July and August but you're invited to a meeting on 13 July 2018, where we will discuss the future of the book club and nominate a new coordinator. Please come along if you'd like to help run the book club and keep it going.
On 20 July 2018 we're participating in the School of Civic Action at Tate Modern, this event is part of an assembly on the commons organised by Public Works and Commons Rising.

[ART&CRITIQUE] MEETING
General Meeting
13 July 2018, 18:30-20:30
LARC, 62 Fieldgate Street, London E1 1ES
Closest stations: Whitechapel / Aldgate East
All welcome


[ART&CRITIQUE] COURSE
Critical Theory in Contemporary Art Practice
6–10 July 2018, 10:00–16:00
Chelsea College of Arts UAL, 16 John Islip Street, London SW1P 4JU
Tutor Sophia Kosmaoglou
Booking via UAL

[OPPORTUNITIES & ANNOUNCEMENTS]
July 2018
The list of opportunities, open calls, deadlines, announcements & vacancies is updated regularly.
If you would like to post your listing for open calls, opportunities or vacancies on the list please send us the details.
IMAGE CREDITS
Photos by Karen Barnes and Box on Wheels drying at the Bird's Nest, Church Street. Photo by Ruth Gilburt.
Chartist Meeting on Kennington Common, 10 April 1848. Photo by William Kilburn.
Philip Guston [1973] Painting, Smoking, Eating. Oil on canvas, 196.8 x 262.9 cm.