Fri, 12 Jun 2020, 6-9pm
Online via Jitsi Meet
All welcome, please book your place
This event is part of Antinuniversity Now! Festival 2020, 6-13 June
A workshop on self-organisation and collectivity for a cooperative art school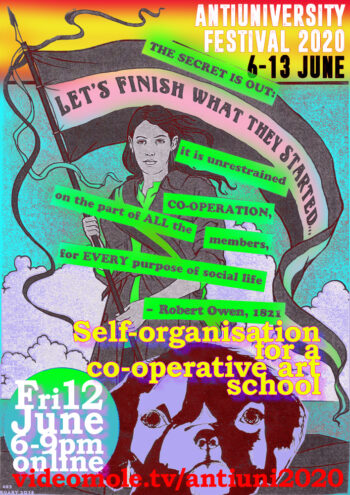 What would a cooperative art school look like? What would the benefits of membership be? Could it provide independent, self-sufficient, sustainable and ethical working conditions? Could it reconfigure our understanding of education as a public good, not through redistribution, but as common ownership? And our concept of knowledge, not as a product, but as a social process?
How would a co-operative art school work? What would the membership responsibilities be?  How would we organise ourselves in a non-hierarchical way to address inequalities and include everyone in decision-making?
Alternative models of art education abound, but as Richard Sennet argues in Together: The Rituals, Pleasures and Politics of Cooperation (2012), we don't have opportunities to practice the necessary skills in self-organisation and cooperation that are required to create and maintain commons-based economies. Alienation and exploitation can only be countered by social, collective and co-operative practices that foster community, equality, inclusivity and mutual aid.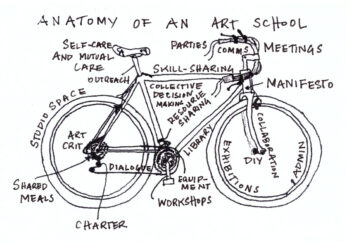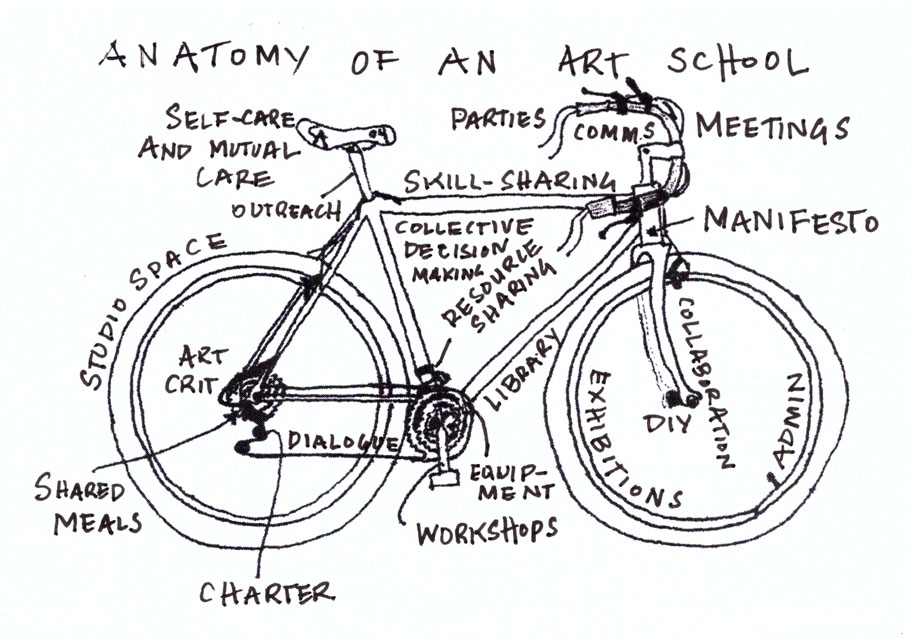 The workshop will begin with a reading group on self-organisation and conclude with a workshop on leadership roles for leaderless groups, based on The Empowerment Manual: A guide for collaborative groups (2011), by the writer, teacher and activist Starhawk.
Please download and read the texts in advance of the workshop. They highlight aspects of group dynamics in collectives and groups, providing starting points for the discussion. We will unpack the concept of self-organisation and address a series of questions in the seminar, please bring your own questions along.
This workshop is part of A co-operative art school? a research project that explores potential models for a co-operative form of art education. It is an extended call for collaborators who want to address the problems of art education and work together to establish an alternative model to the corporatised, marketised and financialised capitalist university.