The Crisis of Critique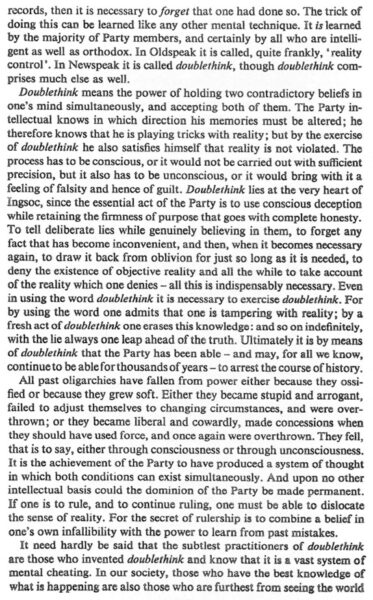 Thanks to everyone who came along and contributed to an excellent discussion on Adam Curtis' film Hypernormalisation. A very special thanks to Neil Lamont for facilitating! We watched a 13 minute excerpt of the film and the discussion revolved around consciousness and complicity. Neil handed out copies from George Orwell's 1984 and read the passage on doublethink, comparing it to the concept of hypernormalisation, which Curtis borrows from Alexei Yurchak, a term he coined to describe the culture of resignation to the simulacrum of normality in 1980s Soviet Russia.
In February we're joining Aris Nikolaidis to discuss The Fate of Representation, the Fate of Critique, chapter six in Jesse Cohn's 2006 book Anarchism and the Crisis of Representation: Hermeneutics, Aesthetics, Politics. What would a radical anti-representational aesthetic look like today, beyond the binary opposition between autonomy and popular culture?
If you ever wanted to join the Critical Theory in Contemporary Art Practice course this is the time! We're running the first independent [ART&CRITIQUE] course in April 2018 and we're inviting submissions for a Fee-waiver Award. To apply please download the application form and return it by 5pm on Friday, 23 February 2018. For more information please follow the links below.

[SYMPOSIUM] BOOK CLUB
Cohn: Representation and Critique
Friday, 9 February 2018, 6:30pm-9pm
LARC, 62 Fieldgate Street, London E1 1ES
Facilitated by Aris Nikolaidis
Suggested donation £2, booking via Eventbrite

[ART&CRITIQUE] COURSE
Critical Theory in Contemporary Art Practice
19 April – 14 June 2018, 6:30-9pm + 5 May 2018, 2:30-5pm
Kupfer Arch 213, Ponsford Street, London E9 6JU
Tutor Sophia Kosmaoglou
£250 via Eventbrite or apply for the Fee-waiver Award

[OPPORTUNITIES & ANNOUNCEMENTS]
February 2018
The list of opportunities, open calls, deadlines, announcements & vacancies is updated regularly.
If you would like to post your listing for open calls, opportunities or vacancies on the list please send us the details.
IMAGE CREDITS
George Orwell (1956). 1984. Harmondsworth: Penguin Books, p. 171.
Enrico Baj [1972] The Funeral of the Anarchist Pinelli. Textured offset colour print, 75 x 68 cm. Edition 200.