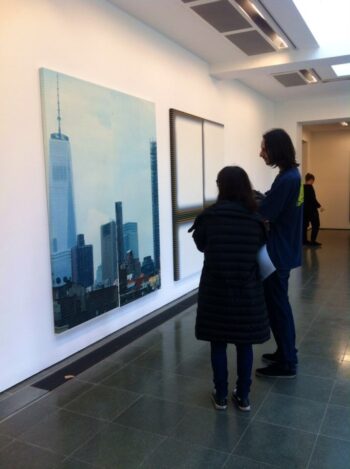 We got the autumn season off to a great start last weekend! Thanks to Anca Baciu and Mandy Wong for curating, and to everyone who came along on the art crawl from Marylebone to South Kensington on Saturday. We started off with Allora & Calzadilla at the Lisson Gallery, where we wondered how the exhibition lives up to the political critique in the press release. Looking at Wade Guyton's work at the Serpentine, we wondered how the large-scale digital prints on stretched canvas or digital prints arranged in display cases are "pioneering painting techniques that explore the impact of digital technologies". We more or less came to the conclusion that this could be justified by referencing the work's engagement with formalist concerns such as flatness, surface, illusion etc. We got utterly exhausted by the V&A LGBTQ Tour, which was delivered with energy and enthusiasm. We unanimously applauded this excellent initiative, but were disappointed at the emphasis on anecdotal stories about celebrities.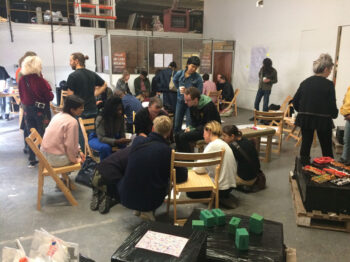 Many thanks to School of the Damned for inviting is to the First Alternative Education Open Day! It was a privilege to be part of this excellent landmark event together with other alternative art schools. We covered a lot of ground in a relentless series of workshops, met new people, exchanged ideas, played games and had a great time. Many thanks to Maria Christoforatou for preparing and facilitating our workshop, we collected participant responses and we're putting those together to share. In the meantime you can download the handout with A4 poster.

[SYMPOSIUM] BOOK CLUB
Foucault: Of Other Spaces
Sunday, 15 October 2017, 1:30pm – 4:00pm
Yurt Café, St. Katharine's Precinct, 2 Butcher Row, London E14 8DS
Facilitated by Dasha Loyko
Free, booking via Eventbrite
Our next event is the book club on Michel Foucault's essay Of Other Spaces, facilitated by Dasha Loyko and hosted at Unison, a former lifeboat turned project space by Anastasia Freygang "to create a shifting pocket of inquiries". We're meeting at Yurt Café, located next to Limehouse station before we walk to the boat moored nearby. For more information, to download the text and book your place please visit the page.

[OPPORTUNITIES & ANNOUNCEMENTS]
OCTOBER 2017
The list of opportunities, open calls, deadlines, announcements & vacancies is updated regularly.
If you would like to post your listing for open calls, opportunities or vacancies on the list please use the contact form to send us the details.
IMAGE CREDITS
ART SKOOL CO-OP. Poster by Sophia Kosmaoglou.
[SYMPOSIUM] #20 Foucault: Of Other Spaces. Flyer by Dasha Loyko.
Daniel Clowes [1991] Art School Confidential. Eightball #7, Nov 1991.