On Friday, 14 October we're reading the first chapter of Alain Badiou's Handbook of Inaesthetics with Badiou scholar Kerry W. Purcell at [SYMPOSIUM] book club. Note that this event is fully booked, please follow the link to join the waiting list and we will be in touch if there are cancellations. On Saturday, 15 October we're discussing Autonomy & Critique with Dasha Loyko at the next Studio Crit, please follow the link to book your place. In October the Gallery Crawl is heading to south east London, for more details please read on.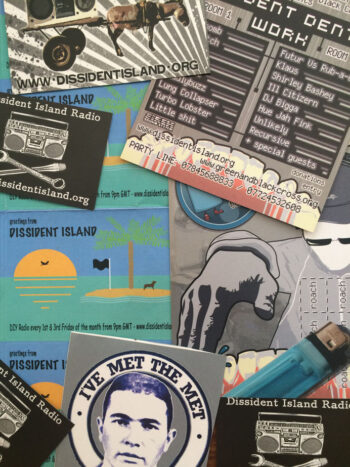 Last month we saw  Mike Kelley's 1999 installation Framed and Frame at Hauser & Wirth, well worth  a visit to see this complex installation with a fascinating archive of preparatory drawings, photos and documents at. If you plan to visit Shez Dawood's show at Timothy Taylor don't forget to book…
On the 2nd of September 2016 we were invited to a interview on alternative art education at Dissident Island Radio. Sophia and Johanna joined James from Squash Campaign, Andy from LDMG and the Dissident Island crew for a live broadcast at their LARC studio in Whitechapel. The podcast is available to listen to or download from Dissident Island or the Internet Archive.

[SYMPOSIUM] BOOK CLUB
Badiou: Art & Philosophy
Friday, 14 October 2016, 6:00-8:30pm
The Field, 385 Queens Road, London SE14 5HD
Chaired by Kerry W. Purcell
Free, waiting list only

[ART&CRITIQUE] STUDIO CRIT
Dasha Loyko: Autonomy and Critique
Saturday, 15 October 2016
3:00pm – 5:00pm
The Field, 385 Queens Road, New Cross, London SE14 5HD
Free, please book your place

[ART&CRITIQUE] GALLERY CRAWL
From Camberwell to Peckham
Saturday 29 October 2016, 2:00-5:00pm
Roman Ondak SLG Amalia Ulman Arcadia Missa Emma Charles South Kiosk
Please visit the website for the details & a map of the route
Free, booking not required
IMAGE CREDITS
Alain Badiou and Kerry W. Purcell have lunch in 2015.
Dasha Loyko [2016] Tips For Designing Your Dream Bathroom (maquette of central fragment).